Detect by Niebling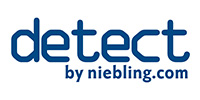 Most of all for the food processing industries residues from production can become a big problem, if not spotted early enough. With increasing numbers of products for which pureness is one of the main topics the Detect by Niebling portfolio gains importance throughout all industries.
Our product range consists of cleaning equipment but also a spectrum of tools, industrial and workers safety.
 XDETECT® sythetic material – dually detectable and anti-bacterial
The results of the sythetic XDETECT® development are the backbone of out product range. Durable, long lasting and with a very low tendency to break off fragments makes XDETECT® an outstanding material in the sector of all detectable materials. The high visablitiy in X-Ray detectors as well as the high magnetic attributes maximize the chance of finding even small fragements in the quality ensureance proccess.
XDETECT® also is anti-bacteriel and can be used even in hygienically highly sensible areas of your facility.
HACCP risc minimization
Niebling Detect meets all EU directives and FDA policies for food proccessing. Available in up to 8 colors our products help
Niebling Detect meets all requirements for fod safety of the EU and the FDA. The product range is available in up to 8 colors and is therefore suitable for HACCP application.
The advantages of XDETECT®:
Metal detectable
X-Ray detectable
Shutter resistant
Antibacterial
8 bold colors for visual detection and color co-ordination
Fully compilant with EU & FDA food contact legislation
Safe handle connections using 'Sixsafe'
We are happy to help!
If you have any quastions regarding Niebling products or the 5S shadow boards, don't hesitate to contact us.
phone: +49 (0) 98 43 98 94 - 22
or via Email